February 22, 2023
As a freelancer, the thought of growing your business and becoming an agency can be an exciting one. However, the road to building an agency from scratch is paved with hard lessons and experiences. As someone who has been running an agency for five years now, I've learned a lot along the way. In this blog post, I'll share some of my experiences and lessons that I hope will be helpful to those who are just starting out or looking to grow their existing business.
From Solo to Agency: A Journey
I started my agency five years ago as a solo web designer and developer. I would outsource as needed. At the time, I had no idea what I was getting into or how difficult it would be. I learned quickly that building a successful agency requires a lot of hard work, dedication, and patience.
Today, my agency team has grown to seven full-time employees and contractors (as of Feb. 2023). We primarily focus on WordPress-related services that include custom design, development, troubleshooting, fixing bugs, and maintenance contracts.
This may also include headless WordPress, JS framework/libraries, and other advanced coding.. some clients we help with Shopify. This year we want to expand our offerings to provide Webflow services.
These services didn't develop overnight. It was years of 'figuring it out' and doing more as the team developed.
Defining Your Vertical and Target Audience
One of the biggest lessons I've learned is the importance of defining your vertical and target audience. It took us a few years to figure out who we were and what we wanted to do. Once we did, we were able to focus on serving a specific group of clients and offering services that aligned with their needs. We also found that it's important to have a mix of services (and products) to avoid relying too heavily on one revenue stream.
Communication is Key
Communication has been key to our success as an agency. From the start, we made sure to have open lines of communication with our clients. This helped us to understand their needs, expectations, and goals. We also learned to be transparent about our processes, timelines, and pricing. By doing so, we were able to establish trust and build long-lasting relationships with our clients.
Over this time we've honed our skills and landed on the tools we need to communicate better.
Listening and Solving Pain Points
One of the most valuable skills you can develop as an agency owner is the ability to listen to your clients and identify their pain points. By doing so, you can position your agency as a solution to their problems and provide them with the value they're looking for. This can help you to build long-lasting relationships with your clients and differentiate yourself from the competition.
For me, listening to other agencies was particularly valuable. By understanding their pain points with outsourcing or team building, I was able to position my agency as a solution to their problems. This helped me to attract clients who were looking for a partner they could trust to take care of these tasks for them. By doing so, I was able to provide them with the value they were looking for and build a strong reputation.
Pricing Yourself Right
Another important lesson I learned early on was the importance of pricing yourself right. It can be tempting to price yourself low to attract clients, but this can be a recipe for disaster. Instead, I went after higher-value accounts and made sure our pricing aligned with the value we were providing. This helped us to attract clients who appreciated our expertise and were willing to pay for it.
Expanding Your Services
As your agency grows, it's important to continue expanding your services. This can help you to attract new clients and retain existing ones. In our case, we recently decided to expand our services to target the insurance agency vertical. This was a strategic move based on our existing expertise (including my background and decade spent as an insurance agent) and market demand. By doing so, we hope to tap a new market and increase our revenue.
This is also an opportunity for additional services finely tuned for these types of clients. We're planning to add some additional content and marketing services (only for this vertical!). And it might even lead to providing back-office help or other types of development.
Final Thoughts
Starting a solo business and growing it into an agency is no easy feat. It requires a lot of hard work, dedication, and a willingness to learn from your mistakes. By defining your vertical and target audience, communicating effectively with your clients, solving pain points, pricing yourself right, and expanding your services strategically, you can build a successful agency that provides value to both your clients and employees.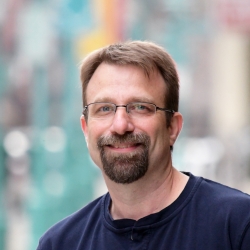 Latest posts by Matt Levenhagen
(see all)