October 28, 2023
Introduction
Hey there, folks! Matt Levenhagen here, swinging in with a topic as exhilarating as sinking that elusive hole-in-one—tools and technologies for efficient team collaboration. If you've been following this blog series, you're well aware of our deep dive into the multifaceted world of team management. Today, we're lifting the hood to scrutinize the machinery that powers efficient teamwork.
Over the past five years at my agency, Unified Web Design, LLC, our toolkit has been in a constant state of evolution. While some stalwarts like Slack have remained steadfast in our communication arsenal, our project management tools have undergone quite the transformation.
The Cornerstones of Modern Teamwork
We've discussed everything from Agile methodologies to the fine art of delegation on this blog. So what's the glue that holds all these components together? You guessed it: a rock-solid tech stack. Just like how a keen golfer wouldn't step onto the green without their trusted set of clubs, a savvy team leader knows the importance of having the right tools at their disposal.
Yes, I have golf on my mind today. 😄
Why Tools and Tech Matter
At Unified Web Design, LLC, I've seen firsthand how the right tech stack can streamline operations, enhance communication, and catapult productivity to new heights. On the flip side, I've also been a witness to the catastrophic collapse of workflows due to poor tool choices.
For a long stretch, I was committed to Atlassian products and Trello, even declaring, "We're an Atlassian agency." That hard-nosed commitment started to backfire as we expanded—our team, our workload, and our client base. We began to hit limitations that were, quite frankly, unsolvable.
The negative impact was palpable, and we reached a point where tough decisions were unavoidable. As difficult as it was, we transitioned to a new tool that I'll delve into later. And let me tell you, it's been a game-changer. Had we not been willing to pivot, we'd probably be floundering in a sea of chaos right now.
Categories of Collaboration Tools
Communication Platforms
Slack serves as more than just our digital watercooler—though yes, we do have a dedicated channel for that kind of casual chatter. 😄 It's actually the central hub for communication across our various teams. Team members report their daily accomplishments here, and when a critical issue arises or immediate attention is needed, Slack is my go-to for flagging down the right team to address the concern.
We often find ourselves engaged in lengthy discussions about projects right within Slack. Thanks to the platform's nesting capabilities, it's not uncommon to have multiple sub-conversations occurring simultaneously within a single channel. And to help us manage this bustling chatter, Slack has introduced some incredibly handy features like the 'Threads view,' along with the ability to set reminders and snooze items for later.
While Slack is our trusted companion, it's not the only game in town. Microsoft Teams and Discord are also making their mark, each offering features comparable to Slack's. Let's not forget that some project management tools come with built-in chat functionalities, allowing for contextual conversations directly tied to specific tasks or projects.
Project Management
Before diving into the tools, let's briefly talk about what project management tools are designed to do. Essentially, these platforms serve as the central hub for all your project activities. They help you assign tasks, set deadlines, track progress, and facilitate collaboration, acting almost like a virtual office space that keeps everyone on the same page.
Now, for the tools. We swear by ClickUp, but we didn't always. In our early days, Trello's Kanban boards were our go-to. As we grew, so did our needs—enter ClickUp. We also collaborate with agencies that are big fans of Asana, Teamwork, and Basecamp. In short, it's all about finding what fits your team's specific needs and growth trajectory.
Document Sharing
Google Workspace, especially Google Drive, serves as a cornerstone for our document storage and sharing needs. However, Dropbox is far from being sidelined—it's our go-to when collaborating with external teams or clients. Both platforms offer comprehensive solutions, giving you the freedom to pick what suits your specific requirements, be it storage capacity, ease-of-use, or advanced sharing features.
When it comes to handling sensitive information, we trust 1Password to keep our passwords and confidential data under lock and key. In an era where data security is a non-negotiable, 1Password gives us peace of mind without causing a bead of sweat.
Time Tracking
Freshbooks keeps us on point, but it's not a one-size-fits-all solution. Toggl is another great tool that we've relied on. And let's not forget, in some situations we can still find value in good ol' spreadsheets. The best tool for you really depends on the nature of your projects and the level of detail you require in your time-tracking efforts.
Video Conferencing
Zoom might be the darling of the remote work era, but Google Meet has been a solid contender in our playbook. Slack's video chat feature has also come a long way, offering a more seamless experience for internal communications. It's all about finding the platform that offers the features you need, without overwhelming you with bells and whistles.
Zoom and Google Meet are our mainstays for synchronous video communication, but when it comes to asynchronous communication, Loom is our go-to. Whether I'm reviewing a team member's work or walking them through a new feature, Loom allows me to easily record screen-shares and video messages. This way, team members can watch and respond in their own time, making it a highly flexible solution.
Making the Right Choices
Selecting the right tools for your business is much like choosing the right golf club for a particular shot—it's all about balance and precision. You need to assess your team's unique needs, consider your budget constraints, and evaluate how well the tool can scale with your business growth.
Don't be swayed by flashy features that you don't need. Sometimes, a simpler, more cost-effective solution can do the trick just as well. And remember, changing tools can be disruptive, so it's worth investing time upfront to make the right choice.
The Human Element
Technology is an incredible enabler, but let's not forget, it's not a stand-in for genuine human interaction. Think of it this way: as nifty as Slack and ClickUp are, they're not going to replace that "aha moment" you get from a face-to-face brainstorming session over Zoom or Google Meet.
These tools should be leveraged to augment, not replace, human connection. And don't underestimate the power of a spontaneous video call or even an old-fashioned phone call to resolve issues quickly and strengthen team bonds.
Wrapping It Up
And there you have it, folks—your guide to assembling a robust arsenal of tools for efficient team collaboration. Remember, the end game isn't just about surviving in today's fast-paced business environment; it's about thriving. Just like choosing the right golf club can make or break your game, the right tools can be game-changers for your team.
Whether you're a ClickUp aficionado or a Trello traditionalist, a Slack junkie or a Teams enthusiast, the best tools are the ones that streamline your workflow without adding unnecessary complexity.
And, again, let's not forget the human element. Technology is meant to enhance our interactions, not replace them. So go ahead, schedule that impromptu Zoom call or shoot a quick Slack message. Because at the end of the day, it's not just about the tools; it's about the people using them.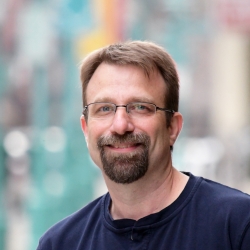 Latest posts by Matt Levenhagen
(see all)