June 24, 2023

Hello, folks! Matt Levenhagen here, coming to you from the heart of Wisconsin, where the cheese is as plentiful as the Packers fans. ? Today, we're diving into an important topic that's close to my heart – managing remote teams and overcoming the challenges of distance and time zones. So, whether you're a seasoned remote team leader or just starting out, this one's for you. Grab your favorite beverage, get comfortable, and let's get started!
The Rise of Remote Work
The world of work has been undergoing a seismic shift. The traditional office environment, once the cornerstone of corporate life, is being replaced by a more flexible, remote work model. This shift has been accelerated by recent global events, but even before that, the trend towards remote work was undeniable.
Now, this isn't just about swapping out your office chair for your comfy couch at home. It's about a fundamental change in how we work and collaborate. And while remote work offers a plethora of benefits, it also presents unique challenges, especially when it comes to managing teams across different time zones.
Speaking from personal experience, I manage a remote international team from my cozy corner in Wisconsin. This isn't just a business strategy; it's an integral part of my business model. And let me tell you, it's been quite a journey! Over the years, my team has evolved into an incredible powerhouse of productivity, delivering top-notch work for our clients. And the fact that we're spread across three continents? Well, that's just a testament to our adaptability and resilience!
In the sections that follow, I'll share some insights and strategies that have made a world of difference for my own agency. Whether you're managing a remote team or considering making the shift, I hope you'll find these tips helpful. Let's dive in!
The Challenges of Distance and Time Zones
The Time Zone Tango
One of the most significant challenges of managing a remote team spread across different time zones is coordinating schedules. It's like trying to choreograph a dance where everyone is listening to a different song. You might be sipping your morning coffee while your team member halfway around the world is ready to call it a night. This can make scheduling meetings and collaborative work sessions a logistical nightmare.
The Communication Conundrum
In our previous articles, we've talked about the importance of communication in high-performing teams. But when your team is scattered across the globe, effective communication becomes even more critical and challenging. The lack of face-to-face interaction can lead to misunderstandings and a sense of isolation among team members.
The Trust Test
Building trust and psychological safety within teams is crucial for their success. But when you're not sharing the same physical space, building that trust can be more challenging. It's harder to pick up on non-verbal cues and to create those informal moments of connection that help build relationships.
Overcoming the Challenges
Now that we've identified the challenges, let's talk about how to overcome them. After all, we're not just here to commiserate – we're here to find solutions!
Embrace Asynchronous Communication
Asynchronous communication is a term that might sound like it's straight out of a sci-fi movie, but it's actually a simple concept. It means that not everyone needs to be online and available at the same time. It's about fostering a work culture where tasks and communication can happen independently of others' schedules. Tools like ClickUp, Slack, and Google Workspace are invaluable in facilitating this.
When I wake up in the morning, the first thing I do (after brewing a strong cup of coffee, of course) is check Slack. It doesn't matter that my team has been working while I was catching some Z's. There will be messages waiting for me, and I tackle them right then and there, or snooze them for later. The key is managing it according to your schedule and needs.
Now, here's a little nugget from my personal playbook: it's crucial to have some overlap in schedules, even if your team works overnight. Even just an hour or two can make a world of difference. But depending on the role, it could be as long as mid-day. And if there's a critical item on the agenda, we can tackle it first thing. It's all about finding that sweet spot of synchronicity amidst the asynchronous rhythm of remote work.
Our employees and contractors understand the importance of this and have embraced the night-owl work life. It's all part of the rhythm of working in a global, remote team.
Foster Connection and Trust
Building trust in a remote team requires intentional effort. Regular check-ins, virtual team-building activities, and open communication can all help foster a sense of connection. Remember, it's not just about work – it's about creating a space where team members feel valued and understood.
Moreover, tools like Slack and ClickUp are invaluable for those managing teams. They provide a wealth of insights into who's doing what. With features that allow me to drill down into each team member's activities, I can stay informed without micromanaging. I use these tools sparingly and strategically, not to keep tabs on my team, but to foster trust and understanding. It's about having a clear picture of our collective efforts, which ultimately strengthens our sense of unity and purpose.
Provide Clear Expectations and Feedback
In a remote work environment, clarity is king. Be clear about expectations, deadlines, and goals. Provide regular feedback and make sure everyone understands their role and how they contribute to the team's success.
One of the ways I ensure clarity is by leveraging video extensively when communicating project requirements or reviewing work. This, in combination with text descriptions, bullet points, and checklists, helps to reinforce key points and leaves no room for ambiguity. It's especially important when working with international teams, where language nuances can sometimes lead to misunderstandings.
This approach might seem time-consuming at first glance, but in reality, it saves time in the long run. By investing a little extra time upfront to make sure everything is crystal clear, we avoid potential confusion and missteps down the line. It's a strategy that has been appreciated by my team and has proven to be effective in driving our collective success.
Respect and Leverage Time Zones
Instead of seeing different time zones as a challenge, view them as an opportunity. With a global team, you can provide round-the-clock service or development. Respect your team members' work hours and leverage the time differences to your advantage.
However, it's important to note that this might mean you or a more local team member has to be available during the day. This could even involve having team members who can work all day, even if they're located internationally. It might be more challenging to find such individuals, but it's certainly possible.
For example, one of the benefits I have is my deep understanding of our craft. So, if my team members handling a particular task are asleep, I can often step in and fix or tweak something myself for my clients so they aren't left waiting. This flexibility is key in a remote work environment, and it's something you can design into your team structure. It's all about finding the right balance and creating a system that works for everyone involved.
Wrapping Up
Managing a remote team across different time zones is not without its challenges. But with the right strategies and tools, you can overcome these challenges and create a high-performing team that transcends borders and time zones.
In our next article, we'll explore how to nurture and develop individual team members' skills and careers. Until then, remember to keep your communication clear, your trust levels high, and your dance moves ready for the time zone tango!
As always, I'm Matt Levenhagen, your friendly web design entrepreneur, signing off from Wisconsin. Remember, whether you're working from your home office, a bustling café, or a quiet cabin in the woods, keep striving for excellence, keep learning, and keep treating each other with kindness. Until next time, folks!
P.S. If you're looking for more insights on team dynamics, don't forget to check out our previous articles in this series. From understanding personalities and work styles to strategies for effective conflict resolution, we've got you covered!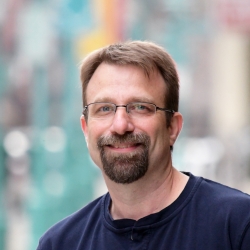 Latest posts by Matt Levenhagen
(see all)