February 16, 2021
What makes you special? Why should someone drop everything and pay attention to you and what you offer?
I was talking to a friend recently about my journey. And I told him about another conversation I had had years earlier with a friend in business; it's one of those conversations and lessons that has such an impact that you never forget it.
We'd been talking about what I was doing and where I was headed with my business and craft. I expressed how much I enjoyed what I was doing. I said something to the effect I'd wished I'd become a programmer much earlier in my life; that I regretted taking all these various detours (and there were a LOT of them!).
But he stopped me.
Paraphrasing because I don't remember his exact words, but it went something like this:
The funny thing is, he ended up hiring me a few years later as his WordPress developer. But I suspect, like I was telling my friend, it wasn't because I was a web developer or could code.
There are a LOT of people that can code and develop stuff.
It was who I was as a person.. all those other skills, soft skills, the marketing and sales background, the business background, the team building background, the… all of it!
All those things made me an asset for what I was set to do in that company which was developing a framework to build WordPress themes, but ALSO to develop products, build a team, create promotions and help in a variety of other areas.
That is the WHO I AM.
And I recently leaned into this further when I updated my agencies home page. I decided to weave me more into the brand as an asset by highlighting me on the home page and talking about my background.
But it goes beyond that too.
What unique services can you offer?
For me, it's also having a WordPress Theme Marketplace. I sell "done for you" WordPress themes. I have customization services tied into these products.
I have a unique framework I use to build custom WordPress themes.
Unique, proprietary. Things that set me apart and make it difficult for competition to replicate.
Those things give me depth and a special advantage — ESPECIALLY when combined with my personal brand and experience.
This doesn't happen over night. Of course, I had a head start. It's stuff that formed me over decades.
But I bet you have something. A special twinkle.. a special skill or passion that drives you that makes you different.
I challenge you to lean into that. Use it. Set yourself apart to attract more success and business OR to advance your career!
---
Other Helpful Articles: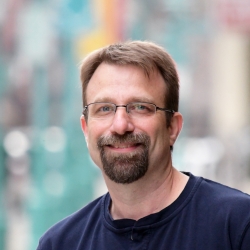 Latest posts by Matt Levenhagen
(see all)