April 04, 2021
Sometimes a Pre-Built WordPress Theme is the Answer.
Here at Unified Web Design, we pride ourselves on being able to design and build awesome WordPress themes for clients from scratch using our in-house framework.
But there are reasons a pre-built, do-it-yourself WordPress theme might make more sense for a business. And the beautiful thing is we own and operate a WordPress marketplace called Hexater.
So we not only can help you build a custom theme from scratch, but we can line you up with a pre-built theme that you can use out of the box (every theme comes with an easy guide to help you duplicate the demos).
And, beyond that, we offer services to help you customize those themes as well. So your options are endless!
Let's dig into why a pre-built theme might be a good option for someone – maybe for you!
Start Simple – Get Something Up Fast!
Many businesses make the mistake of designing their websites to impress themselves or others first. They might spend countless hours trying to achieve some beautiful, sexy vision for their site that may or may not work in the end; hours tweaking, changing things, adding things…. Delaying the launch to squeeze in one more feature.
They may even spend $1000s of dollars to have an 'expert' do it for them.
I've seen this play out time and time again over the years with clients and colleagues. And oftentimes it never mattered. Sometimes the business itself fails and all that time spent is down the drain or contributed to that end.
But let's be clear. Sometimes it's important for a business to start out with a custom website.
Maybe the brand or style guide demands it.
There are a particular business or industry reasons to do it.
There are 'special features' or requirements a pre-built theme can't deliver.
There's a vision that can't be met with a pre-built theme.
Custom themes are our bread-and-butter here at Unified Web Design. So this isn't an anti-custom theme article. 😉
For some businesses that are on a shoe-string budget, want to cut to the marketing ASAP, need something up fast, are testing something, or other 'money loves speed' reasons… pre-built themes can be a smart starting point.
Many of them are just wasting a LOT of time and effort when they could be spending that on marketing, building traffic, or other important business activities.
More often, it's better to get something up. Keep it simple. And start focusing on the business of building content or driving traffic.
Frequently, you don't know what type of site will convert for you or work for your business upfront. Much of it is an educated guess at best. So stick to the basics and test, test, test!
I do the same thing. If you look at my Web Developer Blog, at the time I'm writing this, it's a pre-built Hexater theme with some customization. It took me an afternoon to launch!
When it becomes a big hit and it's monetized, maybe I'll invest time or money into building something custom; or maybe it always lives on this theme. 😄
A website, at its core, should be simple and easy to use to begin with. Not only on computers but more importantly on mobile devices as they are the preferred browsing platform for many. However, despite being simple and easy to use, your website should also be powerful enough to attract, engage, and convert visitors into customers. All while looking good, of course.
So how do you start simple, have a framework you can test with and leave room for scalability in the future?
That's where a quality pre-built theme comes in.
What's in a theme? Everything!
To put that in a better light, let's briefly look at what themes are and why they are critical to building a business website that converts like gangbusters. A theme is responsible for how your website looks and feels. It determines the color scheme, layout, and style of every element on your website (including fonts).
In short, a theme helps you portray your brand and impacts the kind of experience users will have on your website. And as you well know, experience plays a major role in conversions to modern and savvy customers.
Which begs the question – How do you pick the right theme for your website?
How to Choose a Theme that Suits Your Business
A theme plays an integral part in the overall appearance and functionality of your website. Choosing the best theme for your business website shouldn't be taken lightly.
So how do you go about ensuring the theme you pick will be instrumental in turning your website into a profit machine?
1. Avoid Bloated Themes
Bloated themes are those that are cluttered with features. Sure, it's nice to have a lot of features. But remember, it comes at the cost of site performance and usability.
It's also terrible for people that can't help but tweak their site endlessly. Sometimes more options is NOT better.
To avoid this, make a list of the features you want in your website design and use these to direct you to a fully functional yet light theme. Remember, simplicity is the name of the game when building a business website.
All our themes at Hexater have been designed to be super focused. We provide very simple custom admin areas if we have any at all. A lot of times we just need to use the tools WordPress gave us to help you manage your content.
We only give you what you need to set up the demos as you see them. Simple, light-weight, quick to deploy.
Beyond what WordPress gives you (the block editor and related features), our themes don't have drag and drop. We keep it simple; streamlined so you can get a site up fast! So what you see in the demo is the layout and design you implement.
2. Cross-browser & Device Compatibility & Responsiveness
The best themes ensure that your website renders properly on all browsers and devices.
For this reason, make sure to test your theme of choice on as many browsers as possible to ensure that customers who visit from different browsers get the same pleasant experience.
Or if you don't test them, make sure the themes you are going to use are 'responsive'. As an example, at Hexater all our themes have Bootstrap baked into the framework which ensures they work flawlessly on any device or viewport size.
According to Statista, 52.2% of all internet traffic in 2018 came from mobile devices. What year we in now? That number is likely to have increased!
What does that have to do with your choice of theme? Again, Everything!
That statistic shows that more people are browsing the internet from their mobile devices than those browsing on desktop computers. This means your website has to be mobile responsive, otherwise, you'll lose out on a huge chunk of traffic (and revenue).
Here is where mobile responsive themes come in.
While it's true that most themes being developed today are mobile responsive (if you do go with a 'newer' theme), not all adapt to smaller screens well. This leads to visitors having a terrible experience and clicking out. Getting them to visit your website after that will be next to impossible.
Picking a truly mobile responsive theme from the very onset is very important in ensuring that your website attracts leads and converts them to customers.
3. Must Be Designed with Conversions in Mind
Especially for a business website, conversions must be at the center of the design. This is why you must ensure that the theme you settle for will do just that. From the layout to the flow of the content to the prominence of the calls to action, your theme must lead visitors to:
Sign up for a list or for a trial.
Find the content you want them to find in a few steps/clicks as possible.
Easy navigation and search; especially for sites with multiple products.
They need to easily be able to actually purchase something if that's what your goal is.
A theme that is not designed and optimized to get leads or customers won't be of any real value to your website. That's why we take pride in the way we craft our Premium WordPress themes at Hexater. Each theme is designed not only to attract the right audience for the particular niche it is created for, but we also design it to encourage visitors to take the desired action.
One thing you'll definitely appreciate about Hexater themes is the way they have a simple structure that allows you to know exactly what is going on as you build your website. With just a few tweaks you can customize your website, get it up running, and enjoy conversion rates that will leave your competitors green with envy on day 1.
4. Developer Support
Updates.
Every website has to undergo them – inconvenient as they may be. However, updates are unavoidable as the software you've built your website on is always being improved, updated for new versions of WordPress, and made more secure.
When that happens, your theme will also have to be updated from time to time.
Therefore, it's important to confirm developer support before getting any theme. The worst thing you'd want is to be stuck with a theme that has no update as it will leave your website, and business in general, vulnerable to malicious attacks.
As a small business owner, this is the very reason you shouldn't depend on free themes. Many marketplaces today sell themes from 'who knows who'. You don't know if those themes will be supported 5 years from now or even 1 year from now!
The same goes for many web developers who build websites for their clients. You have no guarantee that such themes will get timely updates – if they get updated at all. Is it an independent contractor that's building your site or what?
Will they even be independent a year from now and support their work? Or will they have gotten a 'job' and stop supporting their themes? You don't know!
That's why choosing an agency or solution is so critical. You need to find a company that is established and you can feel confident will be here in 5 years and beyond.
At Hexater we are always there for you. Being the child of an established Web Design agency, you know we are here to stay and will be here serving you for years to come! This is what we do and we take what we do very seriously!
Also, our themes come with detailed guides to help you get the most out of the theme and make it easy to set them up. If you do get stuck, our customer support will walk you through your sticky patch until your website is up and running – perfectly.
5. Provides a Scalable, Flexible Framework
You never want to be confined to what you built on day 1. If you are like me, you may have a long-term plan. You might have a great long-term vision for your company.
But if you are also like me, you're fluid like water! How you get there, those details, may change and morph over time. That's normal for a business!
So you need a WordPress theme that can accommodate that; both in scale and in flexibility.
If a theme is simple, it can be scaled easily with 3rd Party Plugins and utilizing customization options. It also should support a child theme which allows for even more robust customizing and overriding of the parent them.
Choose a Simple Hosting Plan that makes it easy to scale…
Here at Unified Web Design, we recommend LiquidWeb as a Web Host and to get your domain from Namecheap.com. The reason is pretty simple. I've been using both almost exclusively for my own business and client sites for over a decade! And that's carried over to Unified Web Design – because I own it. 😉
LiquidWeb has incredible support, provides reliable servers and have great options for businesses.
If you follow the LiquidWeb link, it's going to take you to a page about their VPS plans. This is by design.
I recommend, bare minimum, every serious business needs to start with a VPS plan. It doesn't have to be the biggest plan; often times the smallest is fine starting out.
But what this offers is a stable, powerful solution that's super easy to upgrade and scale as your traffic and business scales.
As an aside and a note about 'Shared Hosting' options. Again, there are exceptions to every rule. Maybe your business's budget or needs only require the cheapest plan you can get your hands on.
But as a word of warning. Shared hosting is exactly what it sounds like. You are sharing a server with maybe dozens or even 100s of other individuals and businesses. You are sharing resources and it will be less secure. It only takes one bad actor to take down the whole server, require throttling or cause more downtime than you should have.
So, If you are serious about a business, start with a VPS.
Also, as a tip, if you start day one with a company like LiquidWeb, they have an incredible suite of dedicated servers. And if you stay in-house, the transition to one when you need it will be much less painless.
Prepare for scale because you will never know what you'll need in the future!
WordPress + Hexater – The Perfect Solution for the First Iteration of Your Site
If you're building your business website from scratch, we can't recommend WordPress enough as the solution to build your website on.
It is just so easy to work with and ensures that your website is as functional as you want it to be. And it's been around as a platform for over 15 years; you are on an established solution.
Again, here at Unified Web Design, our specialty is building custom WordPress themes and solutions for clients.
But at Hexater, we have dedicated ourselves as a company to provide pre-built themes (designed and developed in-house) and solutions. And themes that can be used out of the box or customized as much as you require.
And because we pride ourselves at Hexater for delivering themes that are built the 'WordPress-way', you can be sure that we'll be compatible with a LOT of stuff out there (eg, plugins).
If you have any questions about your options and want to discuss your particular situation, please leave a comment below.
---
Other Helpful Articles: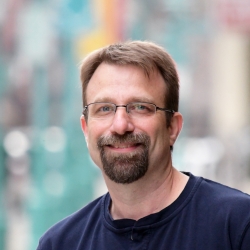 Latest posts by Matt Levenhagen
(see all)