June 06, 2021
I've talked about communication in the past on this blog. It's one of the things I try to lean into, to really set us apart at Unified Web Design on a number of fronts.
This past week I came to a crossroads of sorts with my agency and managing projects. We've been getting more and more work. Good problem to have… but when something happens quickly, it can throw you off balance a bit. I would say in the last few months our workload has doubled or tripled.
And what does that really mean? It doesn't mean that we are getting more work and we're just plowing through it as soon as we get. We have to schedule it, assign it, bring it into an already busy workflow.
Work piles up. And that's not always because things just aren't getting done or things are delayed for 'all those reasons'. It just piles up because you are getting more work while already working on other work. Even if you have a team, they may already be working on a number of projects all at the same time (different people, different stages..).
In any case, you suddenly (as the agency owner, project manager..) realize while you have many great things in place to manage work and the flow, things are for the most part being handled, it's still getting a little crazy. 😉
We use a variety of tools to make managing work easier including:
We have a flow that integrates these various tools to manage clients, client projects, proposals/estimates, invoicing.. you name it.
But things can still fracture. For example, while I try and use specific routes or channels for my clients, I have to be flexible enough to work within their ecosystem. So while I prefer that every project we intake through a form or Zendesk, that doesn't yet happen cleanly. We could force it (and maybe that's a thing in the future) but right now we want to remain flexible.
So I will get random things in email for example. Or I might get a phone call! I do have a team that answers calls 24/7 now and they will open a ticket to relay the message or request. But still another channel to keep an eye on.
Trello boards are awesome. But it makes sense that you create different boards for different things. We have dedicated boards for larger projects OR for specific teams we work with.
The Scattering – Magnifying with Growth
Maybe we can call this the scattering. And as your business or agency grows, things magnify. You suddenly have more boards, more streams of communication coming in etc,..
No matter how much time and effort you put into being organized, having the right tools, things evolve. You may have had the right tools 6 months ago, but now your business has doubled. And suddenly you don't feel quite as under control.
But this isn't just your problem. This is your CLIENTS problem too.
If you work with clients as I do, a client doesn't represent one project at a time. They can represent multiple projects at different stages.. and new projects coming in that require research, estimates etc..
Phew!
I reached a stage this past week where I felt I need to introduce a high level view and commit to maintaining and updating that view for us internally, but also for our clients.
Subject: Weekly Status Report from Unified Web Design
Starting last Friday, this report will be received by all my clients each week if we have active projects. I've already gotten some feedback!
I see this as a critical next step in gaining control of all the work being done and I think it's going to really, really help 'communications'.
We aren't changing what we're doing. We're still going to use Trello Boards and all those other tools internally. And sometimes our clients will have their own dedicated Trello board or manage what we're doing for them in other ways.
But now they can, once a week, get a high level glimpse of what's in the pipeline, what the status is and other details. And, like the screenshot above, they can then ask follow up questions if they have them.
As I experience and I'm sure you do or will, with scale and growth your needs evolve. One day you can feel everything is under control and then somebody or something introduces a little chaos. Trust me, you'll know when it's time to block some time to field this. 😉
Then it's on us, the folks in charge OR the team to come up with new, innovative ways to regain control, better communicate and continue to provide awesome value and service to those we serve.
---
Other Helpful Articles: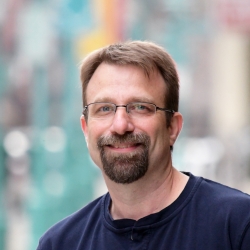 Latest posts by Matt Levenhagen
(see all)