July 11, 2021
The first step to launching and growing a successful business is to draft a business plan that will guide your business to success. Or, at the very least, a sketch of a plan.
Why not do the same for your business website?
After all, it is a part of your business – and a critical one at that.
One of the biggest mistakes many business owners make when putting up a website is to simply register a domain name, set up a website, and hope for the best. No plan whatsoever.
No wonder they never get any results.
A website that generates a good ROI is one that is carefully planned out from the beginning. It's when the site owner has gone through the process of thinking through their strategies and goals today and in the future.
Create a website (business) plan.
You don't need to make it pretty with a nice binder. You aren't showing this to anyone and you aren't turning it in for a grade. This is for YOU. So whatever you use already for notes or documents.. pen and paper? There you go!
So how do you plan out an effective website?
Let's quickly look at 4 factors you need to consider before you build (or redesign) your website.
1) Determine the Purpose of the Website
What do you want your website to achieve?
What do you want people to do when they visit your website? What actions do you want them to take that will benefit your business?
These (and more) questions are crucial to answer in the planning stages of your website. Many businesses don't see any results from their websites because the purpose and the goals of the website are not determined from the start.
Determining what you want to achieve with your website is the most important step you can take to ensure you build a website that has an impact on your bottom line.
2) Know Your Audience
Next to determining what you want to achieve with your website, knowing your audience is one of the most important steps to developing a solid plan.
Why is this important?
For several reasons, actually. Here are a couple to ponder:
Your website is not for you. Yes, you paid for it and you run it, but in reality, you're building the website for your customers, clients & the public at large.
Your audience determines the website's design. Because you're building your website for your customers, design it in such a way that it's not just aesthetically attractive but also functional. It must both look good and be easy to navigate. It has to fit the industry or niche.
Your website must address your customer's pain points. Many businesses make the mistake of talking about what they do instead of addressing the core issues their customers are facing.
While audience research is a critical aspect of building an effective website, it's not as difficult a task to do as it sounds. In fact, if you've drafted a solid business plan for your business, you probably have this information at your fingertips in the form of your market research.
If you haven't already, use the data you have to design buyer personas for your ideal customers. These will help you understand your audience on a more personal level.
3) Choose the Right Platform
Now that you have established your goals and understand who your ideal customers are, it's time to build your website.
A website is a business's home in cyberspace. And just like your physical home needs a good foundation, so does your website too. That foundation is the platform you use to build your website and deploy your content.
There are 3 components that form your foundation:
Your Domain. I wouldn't take this too lightly. A good domain is a powerful brand identity tool that you don't want to have to change if you can help it in the future. Our recommended domain source is: Namecheap.com.
Web Hosting. Web Hosting refers to the servers that will be home to your website. This is what puts and keeps your website online. There are others, but the one hosting company we recommend for most of our clients is LiquidWeb. And generally we recommend starting with a VPS for businesses.
Content Management System (CMS). Don't waste your time with a website builder like Wix or SquareSpace – they are limited and you don't own the code OR your destiny! A free, open-source CMS like WordPress (which we specialize in) is going to provide you way more power, flexibility and scalability – over 1/3 of the web is powered by WordPress!
Don't take the infrastructure you are building on too lightly. It can (and often does) come back to haunt you later when your site's traffic increases and revenues grow.
4) Leave Room for Growth
Start simple, but as you plan your business website, ensure that you leave room to scale it.
A well-designed website will quickly help you achieve your business goals and attract the right visitors, leads & customers. As the traffic to your website and the general activity increases, your website's resources and features will need to adapt.
It is because of this that you need to anticipate and plan for this in advance.
Have a plan to scale your server as your traffic grows.
Use a platform that allows you to add features as your needs progress. Make sure you are on a flexible platform like WordPress with thousands of 3rd-party plugins and endless ways to scale and customize your site.
Start Simple – Plan for Growth!
---
Other Helpful Articles: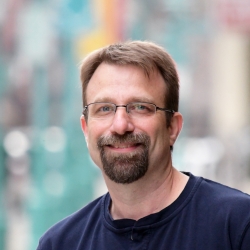 Latest posts by Matt Levenhagen
(see all)